Barbara Burt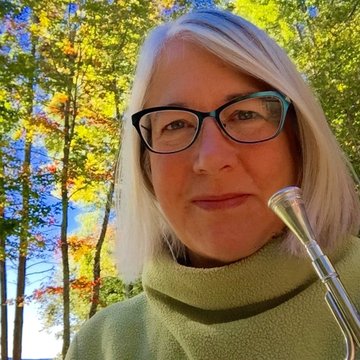 Horn
After several years of not playing horn due to work and childcare demands, I heard that the Midcoast Chamber Orchestra was looking for winds to add to their string ensemble. I made an appointment for an audition with then-director Paul Ross and practiced a bit, knowing that I'd never be in shape but hoping I wouldn't embarrass myself too much. At the audition, Paul kindly overlooked my involuntary vibrato and gave me a spot. That was in 1990.
I had attended Boston University School for the Arts as a performance major but instead of a music career my career veered off, following my other passion—words. In a variety of workplaces ranging from political campaigns to a children's magazine, I've been a reader, editor, and writer. Luckily for me, I've still been able to indulge my love of the horn and grow as a musician in parallel with the MSO. It's a gift to be able to rehearse and perform beloved compositions with people I adore.
Since 1990, I have left the orchestra twice. Once was while attending graduate school out of state. The other happened recently: almost four years in Minnesota. There were many opportunities to play in the music-crazed Twin Cities, including a fabulous and very active Twin Cities Horn Club. Every Monday evening throughout the summers, somewhere between 25 and 45 horn players gathered under the direction of Herb Winslow of the Minnesota Orchestra. The group consisted of players of all levels, beginner to professional, and each rehearsal was an exercise in camaraderie.
Even so, I missed Maine and my friends in the Midcoast Symphony. In an attempt to console myself, I began writing a mystery novel set in Maine at a summer music festival. Now completed, Dissonance is looking for a publisher, and I've begun a sequel set in a community orchestra in Maine. I have many years of experience to draw from, though lacking murder!
For me, the mystery was whether there'd still be a place for me in the MSO when I returned. I'm grateful my horn colleagues made a space.