Motor Booty Affair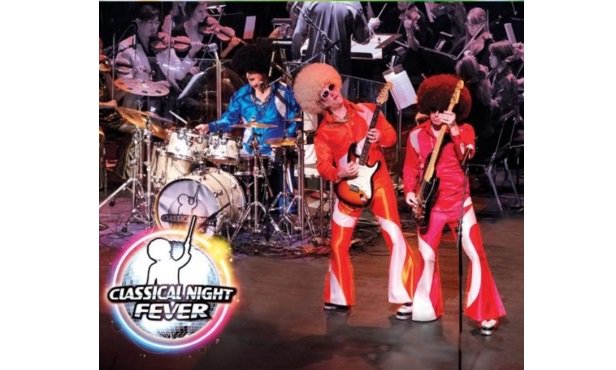 Special Concerts: Classical Night Fever
Classical Night Fever, the popular 70s disco Symphony Pops tribute show has been touring nationally and receiving rave reviews since its inception in 2013. The show premiered with highly successful concerts alongside some of the Northeast's top orchestras including Portland Symphony Orchestra, Bangor Symphony Orchestra, and Maine Pro Musica Orchestra.
This world-class show features four powerhouses from the Planet Funktar: Superfly on guitar and vocals, Vinnie Boom-Boom Funktonio on bass guitar and vocals, Spanishfly on guitar and vocals and Cyclone Link Skywalker Jr. on drums and vocals.
All are highly skilled musicians and performers, but more than that, they're on a mission – A mission to "funkitize" the masses by marrying the lavish sounds of the orchestra with brilliantly arranged disco hits by the likes of Donna Summer, The Bee Gees, Barry White, The Village People and more.
Much of the 70's disco music featured full orchestration and Classical Night Fever has carefully selected popular disco-era hits that highlight the majesty of the symphony. The show even incorporates some orchestra-only pieces, showcasing the symphony with 70's TV and movie theme medleys.
This show transports audiences on a journey through some of the best disco hits of the 1970's. Complete with bell-bottoms, stylin' afros, wild polyester costume changes and some of the coolest platform shoes this side of the Milky Way Galaxy.