Tim Kenlan / Billie Jo Brito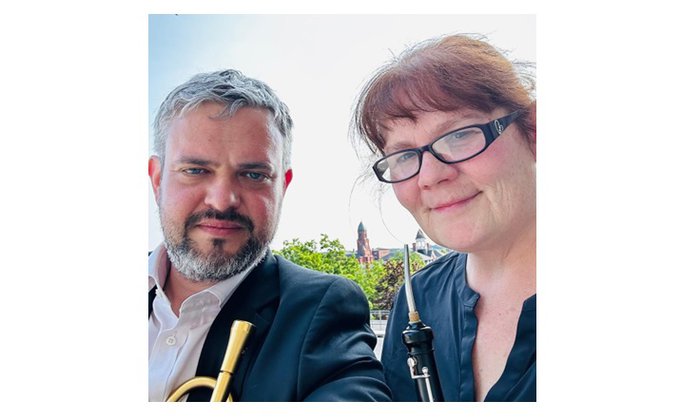 Concert IV, 2023-2024 Season
Tim Kenlan

Tim Kenlan has been with the MSO as its principal trumpet since 2015. During that time, he has performed with numerous chamber groups and as a solo musician and section member at many churches around Maine.
Kenlan attended the prestigious Jacobs School of Music at Indiana University in Bloomington, where he pursued a degree in trumpet performance. At Indiana University, he studied with Edmund Cord, former principal trumpet of the Israel Philharmonic, Utah Symphony Orchestra, and Santa Fe Opera.
Kenlan grew up outside Burlington, VT, and began playing trumpet at the age of 10. In high school he studied primarily with Larry Solt in Burlington and also with Charles Schlueter, former principal trumpet of the Boston Symphony Orchestra.
He lives in Lewiston with his family. When he's not playing music, he is a lawyer and shareholder with the law firm Berman & Simmons, P.A.
Billie Jo Brito

Billie Jo Brito, oboist and English hornist for the Midcoast Symphony Orchestra is celebrating her sixteenth season with MSO this year. She is a proud mom of three young men (including a set of twins), three step daughters, and six grandchildren.
Brito is a retired school teacher who spent 20 years at Lewiston Middle School. As a "retirement project," she and her husband Dan bought Blais Flowers & Garden Center in Lewiston. When not surrounded by beautiful bouquets, she performs as time allows with the Maine State Music Theatre, the Bates College Orchestra, the Colby Symphony Orchestra, and chamber music wherever the opportunity presents itself. A graduate of the Juilliard School, she studied with John Ferrillo, Linda Stroman, and Ronald Roseman. She grew up in Toledo, Ohio.