Interview with MSO Music Director Rohan Smith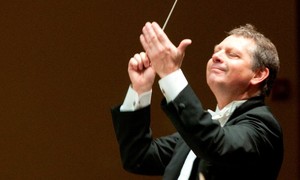 I am thrilled to have recently marked my first month as the new Executive Director of the Midcoast Symphony Orchestra. As most of my arts administration experience has been the world of professional theater, I thought it would be helpful to go right to the source to acquire some perspective on the MSO's upcoming 34th season. To that end, I decided to schedule an interview with the MSO's long-time music director, Rohan Smith, who is celebrating his 20th season with the baton for the organization. I had a chance to sit down with Rohan the other night, and here is what he had to say about this milestone as well as the upcoming season.

Michael Levine (ML): What do you remember about your first year with the MSO in 2003?

Rohan Smith (RS): I remember that so very well. The first thing was I was extraordinarily honored and surprised to actually win a job conducting an actual Orchestra. It was incredible because it was something I always dreamed about. What really amazed me was this homegrown community spirit. This group of individuals from all walks of life, covering all professions, I guess it's a microcosm of Maine, and the fact that these people got on so well and were so motivated and so I'm going to say very well organized, always well organized, and here I was always stepping into this organization and I remember our first rehearsals just being a joy, the joy in the pleasure of making music together was something.

I also had this funny connection in my mind with Australia. I remember my first program, or it might have been the second program, the weather was so brutal. It was so cold, it was like 8 or something like that, and there was this sense that I associate with the Outback in Australia being in an environment where the elements, you have to, there's an element of surviving and enduring the weather in Australia. And that's certainly the case for Maine too as it's so incredibly bloody cold sometimes. Also that wonderful feeling of playing in halls and places that were not absolutely like conventional big city concert halls. They were places that the community was very proud of. For example, the Franco Center especially had this just wonderful magical quality about it.

ML: What do you think has been a key to the MSO's success under your tenure?

RS: Well it was really interesting because [the first MSO Executive Director], John Teller, he basically was the guy who made the whole machinery work. And of course there was the board. I would say the board in some interesting ways has never changed in the sense that it's always been an effective group of people who have good business savvy with an understanding of management issues and audience building issues that are part of running an orchestra. And that has always been the case. There's always been a real sense of financial responsibility, and somehow the model of this orchestra -- which is an all-volunteer orchestra, and the way the tickets are priced, and the way the marketing is done, and the audience building has been done -- has built a model for an orchestra which is very very solid. This orchestra has always been in the black financially at a time when the prophets of gloom about orchestral music are always raising their heads saying "Oh, classical music is dying, the sky is falling, it's all over" which happens all the time, but never happens. And the proof of the pudding is that people love to play and have a need to play.

Another reason for the orchestra's success is that the players are motivated to play because of their intense desire…to perform and study orchestral music from many different time periods, cultures and genres. Of course embracing the classical canon of the great orchestral works, there's no question about the centrality of that. But we had you know people who whose different taste of music spans early music [and some] who mostly only like music that has been composed post 1920, you know really contemporary music, so you can't please everybody, but what you can do is always try and have as wide a variety of different styles and periods of music and compositional origins as possible and I think that has been something we've done fairly successfully as well in our programming.

ML: In what ways has the MSO changed over the last 20 years?

RS: What has been really quite remarkable is that the orchestra is bigger now than it was, and the players are stronger. There's been consistent growth in the level of the players in the orchestra. If I look at it, it still looks like the same orchestra, but of course it's constantly changing. Of course there have been players in it who have been there since the beginning. It has really grown year by year and evolved in skill and stylistic understanding. I remember in the first years when we did certain pieces there would be some treacherous moments - there'd be some things that would go off the rails maybe, nothing terrible, but that almost never happens now. So we're better.

These moments of progress that you call landmarks happen without you really noticing it. All of a sudden you'll do one particular piece, I mean landmark pieces that are sort of a step up in aspiration and musical difficulty. Big landmarks might be the first time we did a Mahler symphony or first time we did the Verdi Requiem, which is one of the most iconic orchestral choral pieces ever. Those kinds of moments that we couldn't have done 5 years before. We've done those and they've come off successfully. A lot of it is under the surface. You chip away at things one little bit at a time Like a painter does. When you're working on the canvas, you know when you're refining things. It's a very granular process, and that's actually the great pleasures about it.

ML: Can you provide some insights into the choices for this year's concerts?

RS: We are revisiting some pieces this year. Let me see…William Grant Still is kind of the dean of African American composers in a way. He was a professor and teacher of many other composers. I think Shostakovich 5, which is a great challenge for any orchestra, is a piece that ironically was written by Russian composer and is exceptionally appropriate to be played in the midst of this horrible war in Ukraine because it's really about–it's sort of like it's like a coded message of endurance of suffering in a country under invasion. Of course the tables are turned here in this particular situation, although I don't think Shostakovich can be identified in any way as a Russian in a political sense.

The second program is also a very daring program which is doing a lot of music by Latin composers along with some of the great song and dance composers of Europe and America, Leonard Bernstein and Gustav Mahler and Johann Strauss, so I think that's going to be a wonderful juxtaposition of music that is pretty new from the Americas, and music that is tried and true and kind of from the old world, and I think that will be a wonderful combination.

The Elgar is a very very challenging piece. It's one of the tests for any orchestra. It's an exceptionally virtuosic piece. Jessie Montgomery is a young African American composer who has made her mark in the last 5 years being commissioned by the Metropolitan Opera and by lots and lots of major orchestras in this country. She's an incredibly fresh and original voice and has earned a place. One of the wonderful things that has come out of this boom in programming of African American voices is the discovery of new voices who are really superb artists and composers who are being given a chance. And the voices from the past - those composers who were always there, but were sidelined and ignored for a long time like Florence Price and William Grant Still. The professionals knew about these wonderful composers, but they just didn't really get the exposure they deserved, and that has just widened the musical experience for all of us, it has broadened it all out which is a really wonderful thing. So I am really glad to see that Midcoast is consciously programming diverse voices from the present and the past, which is great.

We have never done Debussy "La Mer" before. This is one of the great great masterpieces of the 20th century and that is a big challenge. We are returning to Beethoven's 7. Any of the great Beethoven symphonies are pieces you go back to again and again to revisit and relearn and rediscover, and they never fail to be revealing these masterpieces.

ML: Any final thoughts about this milestone in your professional career?

RS: Conductors are perceived to have shelf lives beyond which they wear out. Sometimes you have relationships that really work when the conductor and orchestra grow together and that is what we have here. The conductor learns from the orchestra, and the orchestra learns from the conductor. Both grow together and discover things together.