Sylvia Kraemer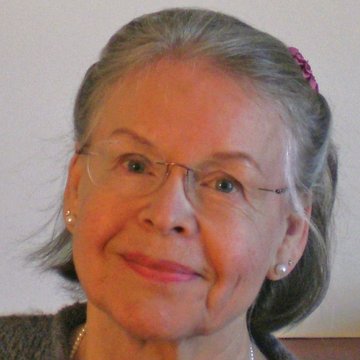 Violin
Like most children of my era, music lessons were an expectation of families who could manage to afford them (and many who couldn't). I started with violin lessons (no piano in the house). They were a disaster. The teacher was joyless, and I didn't practice. My parents called a halt to the costly business. But all was not lost!! Somehow the experience quickened in me an ear for the language of music, especially the violin repertoire.

I graduated from college with an excellent collection of recordings (yes, 33 RPM) of the best known violin works performed by violinists such as David Oistrakh and Yehudi Menuhin. The vinyl was gradually replaced (alas!) by CDs and MP3s.

Years later, as I watched my nest empty of its two wonderful children, I bought from a friend an early 1800s German copy of a violin by Joseph Guarnerius del Gesu. With this treasure in hand I began private lessons with Laura Murray in Washington DC. Then, after retiring to Maine after a career in federal service in Washington, I studied as a private student with Gilda Joffe in Camden, Ferdinand Liva in Topsham, and Ronald Lantz, Portland.

The MSO is a regional treasure. It is welcoming to those of us who are not professionals, but are willing to work and follow the good examples of the many musicians around us who could easily play in our best orchestras. What I am unable to contribute in virtuosity, I hope to contribute to the depth of our sound. Our conductor Rohan Smith is demanding but forgiving, and most of all, is a natural teacher who clearly loves music and enjoys teaching it -- which, as I learned at an early age, makes all the difference.