Nathanial Hackworth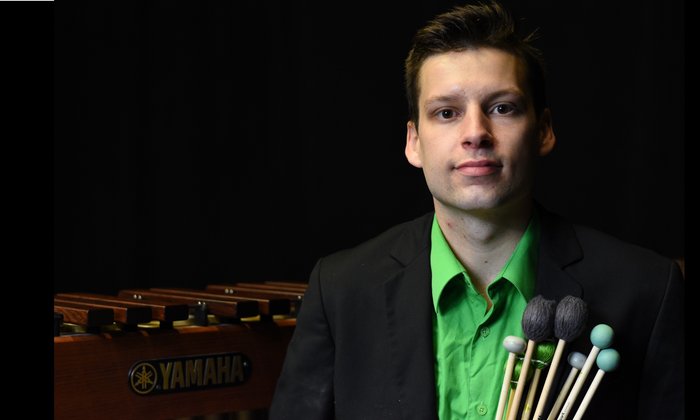 Winner, inaugural Judith Elser Concerto Competition, May, 2018
Mr. Hackworth performed as guest artist in MSO's October 2018 concerts.
Nathanial Hackworth's hometown is Presque Isle, Maine. After graduating (class of '10) from the area's school system, he continued his post-secondary music studies at the University of Maine where he earned a bachelor's degree in music performance (class of '15). While presently pursuing a master of music degree in percussion performance, he plays extensively both contemporary and classical repertoire with the University's chamber ensembles. His large ensemble experience there includes the symphonic band and the orchestra.
Recently, Mr. Hackworth's performance of Uneven Souls: Sta Vidis I & II for percussion trio, marimba, and choir by Nebojša Jovan Živković earned him the Emerging Young Artist of the Year scholarship award from the W.I.S.E. Foundation. As part of this experience, he had the opportunity to study and premiere Eric Ranvig's "A Kiss Gets the Snow to Melt" with Simon Varallyay and Hahnsol Kim. This was performed as part of the foundation's concert at the South Acton Congregational Church in Acton, MA, on December 17, 2017. The foundation will have Nathanial present a full recital at the same location in South Acton, MA, later this year. Currently, he serves as timpanist of the Boston Festival Orchestra, conducted by Nathaniel Meyer. As a large ensemble percussionist, Mr. Hackworth has been fortunate to work with some esteemed orchestras and wind ensembles in the Northeastern United States, including: 92Y Orchestra in New York, DuBois Orchestra, Bangor Symphony, and Winter Harbor Music Festival.
In addition to Nathanial's musical pursuits, his scholarly research focuses on investigating leadership roles within the chamber music ensemble, as well as finding rehearsal strategies to promote collegiality between ensemble members. Nathan will give his lecture on the topic this fall, in partial fulfillment for his master's in music performance degree.
Concerto pour Marimba (et Vibraphone), et Orchestra by Darius Milhaud was ultimately chosen by Nathan and his teacher, Dr. Marrs, because it was one of the groundbreaking marimba compositions that at the time popularized what has now become the concert marimba. As it is early in Nathan's music career, he believes it holds a special meaning that relates entirely to his life as an artist. With a variety of meter, mallet, and instrument changes demanding endurance, this historic composition stands as one of the most rare and important works of the keyboard percussionists' repertoire.
Back to Judith Elser concerto competition