Judith Elser Concerto Competition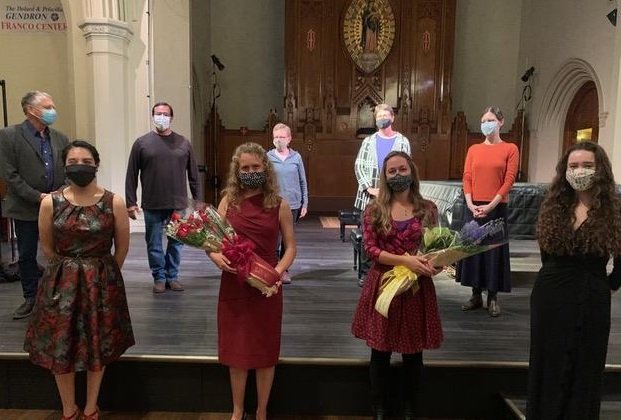 The 2019-2020 competition:
MSO's second biennial concerto competition was open to any undergraduate or graduate student enrolled in a Maine college or university who submitted application materials by March 1st, 2020. After reviewing several excellent applications, we announced the finalists in April. Then the pandemic intervened, delaying the final auditions and causing some competitors to drop out.
The finals were held October 21, 2020, in socially distanced fashion at the Gendron Franco Center in Lewiston.
Winner: Anne McKee, Violin, Bowdoin College. Her winning performance was the first movement of the Violin Concerto by Johannes Brahms. She will receive $1000 and will perform with MSO once it is safe to hold in-person concerts.
Runner-up: Mesa Schubeck, Piano, USM, who played Concerto No. 20 by Mozart.

The other finalists were pianist Josie DiPhilippo of USM, who performed Concerto No. 1 by Chopin, and violinist Sofia Edgar of Bates College, who played Fuga Con Pajarillo by Aldemaro Romero.
This year's competition is supported by the Saxifrage Fund for Opportunity Grants of the Maine Community Foundation. The judges were Rohan Smith (MSO's Conductor and Music Director), Rebecca Dreher, Mary Hunter, Karen Jung and George Lopez.
The first biennial competition:

The final live auditions were held in May 2018, leading to:

Nathan was guest soloist with the Midcoast Symphony Orchestra at our October 2018 concert series, and he received $1,000 from the Judith Elser Concerto Fund.


How the competiton started: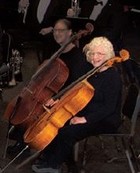 The competition honors the memory of Judy Elser (1940-2015), a long-time music teacher who played cello in the MSO for many years, served on the Board, and left a generous bequest to the orchestra when she died. We are grateful for all she gave to the orchestra, and know that she would be thrilled to witness the personal growth and success her gift has made possible for our young entrants and winners.
A bit about the MSO:
The Midcoast Symphony is a community orchestra founded in 1990. Started as a chamber orchestra, we now have over eighty members on our roster. We play four concert programs per year, performing at the Orion Center in Topsham and the Gendron Franco Center in Lewiston. Our audiences number around 500 in the Orion Center, and close to 200 in Lewiston. All members are volunteer players; we are teachers, doctors, homemakers, business people, retired people and a variety of other occupations, and we hail from the Midcoast, Lewiston-Auburn and Portland regions. Many of us have advanced degrees in performance, but we also include players who started as adults, and those who have always played as an avocation. We do repertory ranging from Mozart and Haydn to recently written pieces, and we are excited to connect further with talented young players from our state.
Back to More with Midcoast...