Celebrating 30 Years: 1990-2020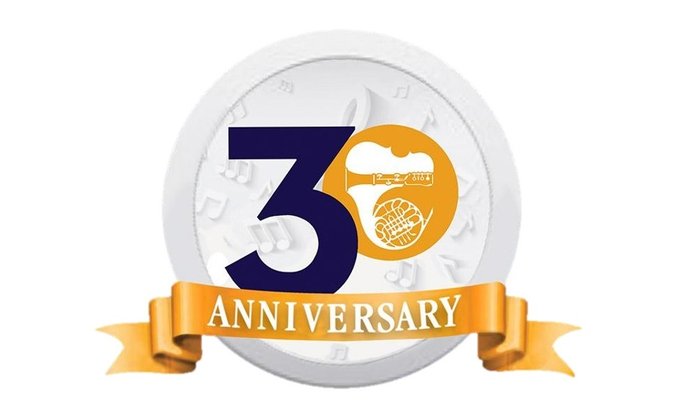 "The growth of the orchestra since I joined in September 2000 is nothing short of stunning," says Carol Preston, MSO's executive director and concertmaster. "Back then the entire orchestra could fit at the front of a church sanctuary, a sometime performance venue. Occasionally there were not many more audience members than musicians." MSO has grown to nearly 80 members who volunteer their time each Wednesday evening to rehearse and bring quality orchestral performances to the Brunswick/Topsham and Lewiston/Auburn areas.
MSO began as a chamber group. Four friends, all string musicians, first began meeting in 1990 to play their favorite string quartets. They soon found themselves wanting to expand their repertoire, but to do that, they needed to add players. They rounded up more musicians, and soon they were a chamber orchestra. Throughout the '90s, the orchestra, under the direction of Paul Ross, rehearsed and performed at various venues along the Midcoast, including Bowdoin College. But, as the orchestra continued to grow in size, it was clear that the chamber orchestra needed to become a full-size symphony orchestra and look for a permanent home.
In 2002, the orchestra was invited to be the orchestra-in-residence at the Orion Performing Arts Center in Topsham. With a regular rehearsal and performance space, the orchestra began to focus on growing its membership and the difficulty of its repertoire. Growth required an orchestra manager and a music director who could move them forward musically. John Teller, an oboist in the orchestra, was chosen by the Board of Directors to be the manager, and the orchestra initiated a search for a conductor. To their surprise and delight, 72 applicants responded to their ads. The field was narrowed to four, and during the 2002-2003 season, the orchestra had each finalist conduct a concert. Australian-born conductor and violinist Rohan Smith emerged as the clear favorite. Rohan Smith's leadership and considerable talent has attracted skilled local musicians as members, as well as world-class soloists to perform with the orchestra.
In 2004 the newly created Franco American Heritage Center (now called Gendron Franco Center) in Lewiston formed a partnership with the orchestra, providing a second venue in which to play. During the 2013-14 season, the Board of Directors started a successful fundraising campaign that allows the organization to have a deeper, more enduring impact. Income from this endowment provides the funds necessary to hire an executive director.
Other orchestra expenses are met by selling program advertising, sponsorships from local businesses, donations from individuals, ticket sales, and grants. Orchestra chair sponsorships also contribute significantly to the orchestra's funding. This season, about two-thirds of the orchestra members were sponsored in this way by one or more individual donors. The orchestra is also supported by community volunteers who usher and sell tickets at concerts, host fund-raising dinners, prepare concert mailings, and more. They are the much valued Friends of the MSO.
Naturally, part of the quality sound of the orchestra is due to the caliber of the musicians. Some have played with professional orchestras, several are graduates of prestigious music schools, many are music teachers at local schools and colleges, and all are passionate about and eager to play challenging music. Orchestra members' "day jobs" range from surgeon to lawyer to farmer to chef. The musicians live in the Brunswick/Topsham area, communities along the coast from Rockport to Scarborough, and inland from Alna to Lewiston/Auburn. See the Musicians page for some of our members' bios, including some of the original 14 chamber orchestra musicians.
Audiences have grown to about 2700-2800 each season. Increasingly, children are part of the audience. In the 2017-2018 season, MSO expanded its programming to include More with Midcoast, which features pre-concert events at Orion and intermission performances by young L/A-area musicians at Franco. Also in 2018, MSO inaugurated the biennial Judith Elser Concerto Competition, which provides music majors currently attending a Maine college or university the opportunity to compete to become a guest soloist with MSO.
Thank you to all of you who have made these past 30 years possible!