Eric Hewitt discusses Series III Music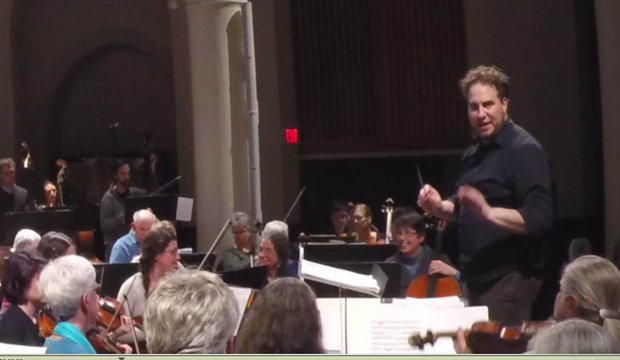 We've had a wonderful time working with our guest conductor, maestro Eric Hewitt!
We interviewed Eric before a recent rehearsal at the Franco Center. I think you'll enjoy what he has to say about the the pieces he selected for our concerts on March 19th and 20th, 2016:
"When the Midcoast Symphony Orchestra invited me to conduct their very first Pops Concert, I asked to perform some favorite orchestral masterworks of the last 2 centuries … works which all engage, on some level, with popular culture. I'll enumerate them quickly and describe their relationship to the 21st century.
We'll open with William Tell's Overture, by Rossini, a really famous piece of music. If you've ever witnessed the Lone Ranger on his horse, riding on the plains – then you've heard the trumpet fanfare from William Tell!
Then we'll jump to a work by Hector Berlioz, a petrifying March to the Scaffold where execution awaits. This was famously used in the movie The Shining, starring Jack Nicholson. It's quite an electrifying – and terrifying – piece of music.
After that we'll imagine Cary Grant on the Champs Elysee in Paris, while we play George Gershwin's ubiquitous American in Paris with its saxophones and taxi horns.
After a short break, we'll come back to the music John Williams composed to accompany a film with John Wayne, his Cowboys' Overture. It's filled with the sounds of Americana and melodies from the 1970s.
After this there will be 2 lovely short pieces: the famous and beloved Radetsky March, played on New Year's Eve by the Vienna Philharmonic for a hundred years.
Then we'll play a piece that is much better known by sound than its title. It's Funeral March for a Marionette, by Charles Guonod, which accompanied the opening segment of the TV series Alfred Hitchock Presents.
The finale will be very exciting. We will present Tchaikovsky's classic 1812 Overture, as we pronounce our victory over Napoleon the dictator, and celebrate independence.
I'm so excited to be working with the Midcoast Symphony Orchestra this year, and hope that you'll join us for the concert."
-----------------------------------------------------------------------------------------------------
Kate Gray is publicity coordinator and a violinist with the Midcoast Symphony Orchestra.