Carol Preston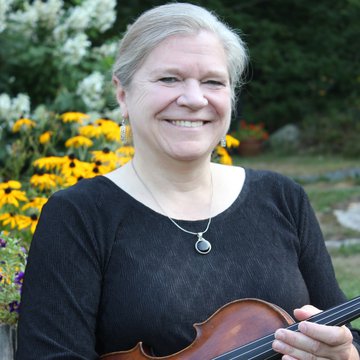 Violin / Concertmaster / Executive Director

Carol grew up in North Dakota in a family of musicians, with most of them playing at least two instruments and singing as well. When the extended family got together, there was a small chamber orchestra.
She attended Concordia College in Moorhead, Minnesota, receiving a Bachelor of Music in Violin Performance while studying with Robert Strava and earning a double major in English. Then she earned a Master of Arts (Violin) from University of Iowa where she studied with Allen Ohmes of the Stradivari String Quartet.

For 18 years, Carol put the music degrees and English major both to use while living in the Washington, DC, area. She was employed as an editor and writer for high-tech companies, maintained a private violin studio teaching using the Suzuki Method, and was an active performer.

Shortly after migrating to Maine in 2000 (following her ancestral roots), she spent 15 years as a public school music educator for grades K-8, teaching general music classes, band, and chorus (sadly, no orchestra). She maintains a Suzuki studio in her home in Damariscotta and at Bay Chamber Music School, teaching students as young as three years old. As a music educator herself, she is ever thankful for all her instructors along the way and for the unique bond that develops between music mentors and their mentees.

Carol has over 30 years of experience as concertmaster of community orchestras in the Washington, DC, area and the Midcoast Symphony Orchestra, for which she has edited the season program for many years.

When not playing violin or teaching, Carol enjoys hanging out with her dog Bix (Beiderbeck) and cats, and doing home improvement projects.