Lara T Bailey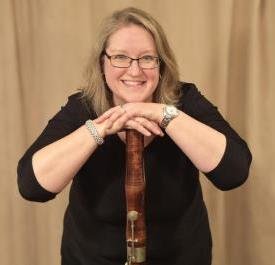 Bassoon and contrabassoon
I've been playing bassoon since I was in 3rd grade, and cannot imagine my life without it. It's sheer joy when I get to perform with the Midcoast Symphony Orchestra on bassoon and contrabassoon. My life has been full of music since I can remember, so it stands to reason that my music degree from Messiah College would focus on bassoon performance. I also enjoy playing piano and singing.
My initial career thoughts were to be a professional musician in any large city known for its orchestral fortitude. I changed my mind along the way and now work as a land specialist for a natural gas pipeline company. However, my love of playing bassoon never left my side, and over the years I have had the privilege of performing with many different bands, wind symphonies and orchestras in both my original home state of Pennsylvania and my new home state of Maine.
When I'm not performing on bassoon, I enjoy hiking, biking, cooking and spending time with my family and friends.