Trevor Peterson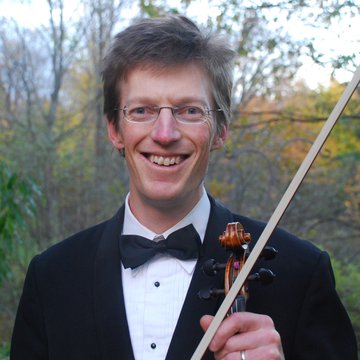 Violin
I started Suzuki violin lessons at age five and benefited from a wonderful range of instructors through high school, performing with the Keweenaw Symphony Orchestra and several chamber ensembles in Michigan's Upper Peninsula, where I grew up. I joined the Midcoast Symphony as a violinist in 1998 while a student at Bowdoin College. I continue to be humbled and inspired by the collective experience (both musical and otherwise) and dedication of the orchestra's members.
I love the diversity of musical styles—classical, traditional, and otherwise. Along the way I learned how to play piano, guitar, mandolin, and accordion and can be found playing in a few different bands at farmer's markets, contra dances, and celebrations of one type or another throughout the mid-coast.
Music for me is a much-needed creative and emotional outlet and a wonderful supplement to my day job as an environmental consultant and graduate student. It's also very much a family thing, as my wife Sarah plays in the horn section and our two young daughters are growing up surrounded by music.