Philip Carlsen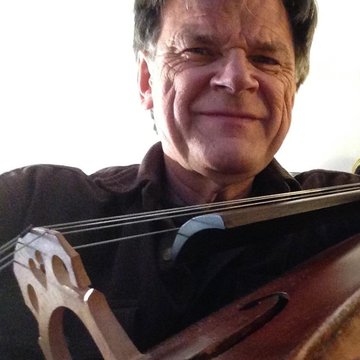 Cello
Phil's father was a college music professor and his mother a piano teacher and organist. With their encouragement, he began to improvise (bang?) on the piano from an early age. When it came time in fourth grade to sign up for an orchestra or band instrument in the public-school music program, he decided the trumpet would be fun. But his dad suggested there would be more opportunities for playing if he chose a stringed instrument, so Phil agreed to give the cello a try. Good advice, Dad!

Phil is still playing on the same instrument his parents bought him in 1963 around the time he began private lessons. He also now has a baroque cello which he uses as a member of the early music group St. Mary Schola. At the other end of the historical spectrum, he directs the Back Cove Contemporary Music Festival at the Portland Conservatory.

He has degrees in composition from the University of Washington, Brooklyn College, and CUNY. His music has been performed widely, including by the Portland Symphony Orchestra and the Sebago-Long Lake Region Chamber Music Festival. Retired in 2015 from the University of Maine at Farmington, where he taught music and conducted the college-community orchestra, Phil now lives in South Portland with his wife, the poet Jeri Theriault.