Charles Oehrtmann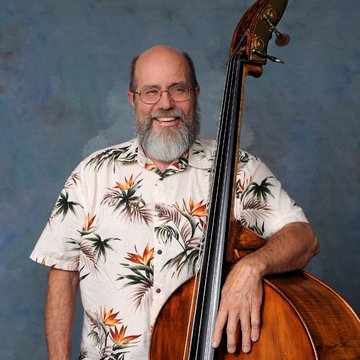 Bass
Charles Oehrtmann grew up travelling the world with his family, as his father was in the Navy. Since the military lifestyle is nomadic, he lived in California, South Carolina, Texas, Japan, Morocco and finally New Jersey, where he attended high school.
His love of music began in the fifth grade in Texas, where his music teacher assigned him trombone. He majored in music in college, where he played trombone in the wind ensemble, concert band and jazz band. He also sang with the college choir, and has continued choral singing throughout his life.
During string-methods class his sophomore year, Charles fell in love with the cello. An orchestra cellist gets to play a LOT more notes than a trombone player! Before moving to Maine, he was a member of the Plainfield, New Jersey Symphony, proudly sitting in the cello section.
After arriving in Maine - and always up for something new - he decided one day to try bass and has been hooked ever since. As a bass player, he has performed with the Bangor Symphony, the Bates College Orchestra, the Southern Maine Symphony at USM in Gorham, the North Shore Philharmonic in Beverly, Massachusetts, the Cape Ann Symphony in Gloucester, Massachusetts, and the Maine State Ballet Orchestra, to name a few.
He joined the Midcoast Symphony in 2004 or so, and it was a perfect fit from the get-go. He has witnessed a steady growth in both membership (particularly the bass section!) and artistic improvement as the years have gone by.
Charles has taught music in the public schools for over 30 years. He currently teaches general music in the elementary schools in Windham, Maine. During his career he has taught orchestras, bands and choruses. He is active in the state music educators' association, and served on the Executive Board of that organization as All-State Orchestra Manager for six years.
His other passions include gardening, growing as much of his own food as possible, canning and freezing home-grown produce, going for spontaneous road trips in the car with his wife, Deirdre, and planning home improvement projects.
Photo credit: © Jeff Morris/the Pierce Studio