Karen Levine Egee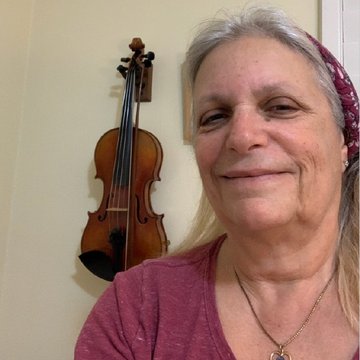 Violin
I'm an adult 'returner' to the violin. Growing up in Brunswick, I played through high school (Brunswick HS '77), in the Portland Youth Symphony Orchestra, the former Brunswick Regional Orchestra, and for a few blissful teenage summers, at the Apple Hill Chamber Music Camp. I moved to the Boston area for college and beyond, neglecting violin as life got busy. I became a child psychologist, specializing in autism and anxiety, living in Bedford Massachusetts.

Both my parents, Dan and Sue Levine, are/were involved in the MSO. My father plays cello and my mother took tickets and made a woodblock print for one of the concert posters. When my mother died in 2017, I rented a violin, hoping to play duets with my father to cheer him up, although I didn't know if I would be able to play after a 35-year break. I taped a sheet of music to the wall and was happily surprised that my fingers knew what to do! We've explored many duets since then.

With the pandemic, my husband and I moved back to Brunswick. I see my patients through Zoom. My father and I played duets throughout the pandemic. My husband loves his adopted state of Maine as much as I do. We spend many happy days hiking, snowshoeing or sailing, depending on the season.

I was thrilled to join the MSO for the Pops concert in the summer of 2021, and continue for the regular season. It is special to be in the orchestra along with my father. The music is often challenging for me, but I am immensely fortunate to play among such a talented group of musicians. Heading out for rehearsals, even on cold, dark, winter Wednesday nights, it is always energizing to spend the evening as part of the MSO's enormous, complex, lively sound.