Quinn Gormley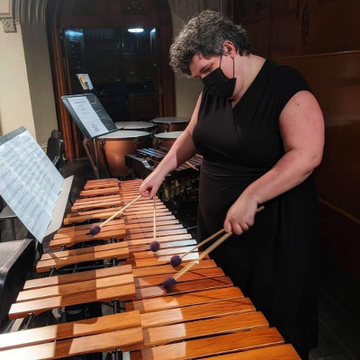 Percussion
(she/her) I'm the product of three generations of church and jazz musicians. My mother taught me keyboard skills, my dad introduced me to drums (not drum set, but the Irish Bodhan). When it came time to pick an instrument for their kids to play in band, my parents looked at their two easily bored, twitchy kids, and naturally chose percussion. If only they knew how often orchestral percussion involves sitting still through hundreds of measures of rests just to hit the triangle once!
I grew up in the midcoast and benefited greatly from the rich musical opportunities this region supports. Orchestral percussionists are hard to come by, and I got gigs fairly young. I've played with many of the local choirs and ensembles, Bowdoin College groups, and started with the MSO while in high school. I left Maine to study music education and percussion performance in Chicago, but a few twists and turns brought me back to Maine and into very different work.
Music is still my first love, and I love playing with MSO and any other group that will have me. People often think percussion is about keeping the rhythm for the orchestra. While this is true of drums in some settings, orchestral music tends to breathe its rhythm with a lot more flexibility than most other genres. Orchestral percussion is all about adding texture and color to the music. We have dozens of instruments that can make hundreds of sounds!
Those cymbals and bass drums and triangles require more precision than you might expect to get the exact right sound out of. Hitting the triangle just the right way with just the right beater, and you can hear a quiet shimmer over the entire orchestra. Hit the bass drum with different sticks, and you can make it sound like a cannon, or a whale, or a hundred people marching. Playing chords on the marimba and you can add warmth and earthiness to any song. It's all about careful attention to detail, and knowing just how to pull the right sound out of each instrument, often in quick succession, and always with musicality.
You might not notice when percussion isn't there. But you will always notice us when we are.